ShoWorks Auction Companion (new in 2020!)
An add-in that allows for projecting the sale and buyers on the bigscreen.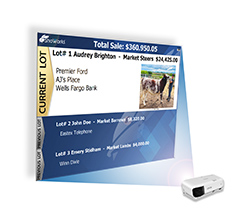 Click Here to order
Draw attention to your buyers and sale by projecting the current items being sold or buyers who are active. Option as allow the automatic update as buyers place their bid on each item. This is the perfect solution to project onto a large screen during your sale to reward and provide exposure to your faithful buyers who support your sale.
This add-in can run on the same computer along with ShoWorks and is fully customizable.
Requirements:
ShoWorks (any Version or Edition)
LCD Projector or Big Screen
Price: $295
Product delivered via download