ShoWorks Help Articles
How to take payments for online entries
ArticleID:
117028
Category:
Online Entries
Date Added:
8/3/2006
Date Last Updated:
11/9/2017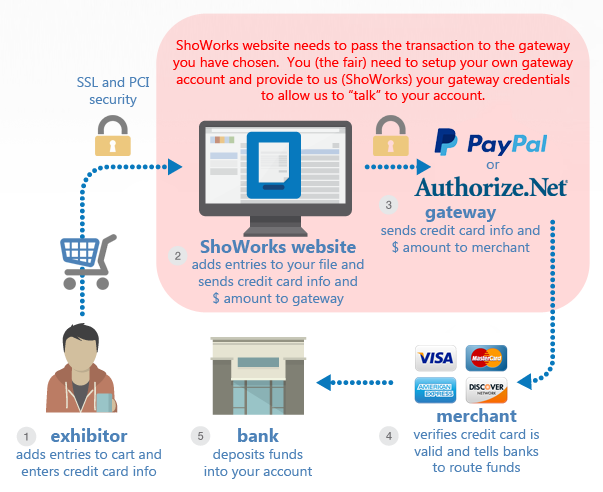 Summary:
Fairs that use the ShoWorks Web to take and process entries online, may opt to have any payments (made through credit cards) routed directly and immediately to their bank. Processing with credit cards requires 2 additional services (these are mandatory for online payments).
Gladstone does not charge any additional fees for routing online payments to your bank, however the following services do charge minor fees. Contact them directly for an explanation of fees. The following article is intended to assist you with understanding the multiple companies that are involved with a payment that is taken online from the ShoWorks Web, through the Payment Gateway Company, into the Merchant Provider Company, and finally to your Bank. Gladstone is not responsible for the service, pricing, or quality assurance of any company involved other that Gladstone itself, but rather provides compatibility with these popular providers to allow you a choice for your ecommerce needs. Finding a good fit for your fair with both a Payment Gateway and Merchant Provider is much like searching for a bank. You must contact them directly (oftentimes by phone) to gather and negotiate pricing that is suitable for your fair. Please note that while we make every effort to keep contact information and pricing estimates of other companies current, it is beyond our control when these companies change their information and policies. As such, the information provided below may not be current. Please notify us if we can update the information to help others.
For Credit Cards:
To have payments from credit cards routed from the ShoWorks Web to fair's bank, the fair must have an account with two outside services: 1) Payment Gateway which is a layer that routes the credit card information securely accross the Internet to the 2) Merchant Account Provider (Visa, Master Card, Discover, AmEx, etc.) which processes the actuall credit cards into the fair's bank. The fair may not have either, may already have both, or may already have a Merchant Account Provider because they take credit cards manually on the fairgrounds and only need to choose a Payment Gateway.

For fairs that have neither, or are on a buget, PayPal offers an all-in-one solution called "PayPal Pro" which serves as both the Gateway and Merchant, routing credit cards directly to your bank at a very low cost (usually less expensive than if purchasing the two services separately).

The process for aquiring any of the services above usually takes 2 to 3 business days.
What you need to choose from (choose A or B):
A) All-In-One Solutions (includes Gateway and Merchant)
Choose this if: your fair has neither service, or is on a budget, or open to finding cheaper alternatives.
There are "all-in-one" solutions that you may choose from:

Product Name: PayPal Pro
Product Name: GoCashless

The typical all-in-one fees are roughly (contact the respective companies for current pricing):

PayPal Pro: No setup fee, no monthly fee (waived when contacting using this info) plus 2.2% for credit card transactions (or 2.6% if paying with PayPal) plus $0.30 per transaction. Contact Curtis Keierleber ckeierleber@paypal.com (402) 935-2131
GoCashless: Fees vary. Contact Brady Waite brady@gocashless.com (877) 362-3800 or (805) 368-3800
B) Payment Gateway (Gateway only, use if you already have your own Merchant)
Only choose this if: you already have your Merchant Account Provider and cannot seek other alternatives, as this option is typically more expensive.
There are two Payment Gateways that you can choose from:

Product Name: Authorize.Net "Advanced Integration Method (AIM)"
Product Name: PayPal Payflow Gateway (formerly called Payflow Pro)
Contact the Paypment Gateways for their pricing.
Contact information for either of the Payment Gateways are as follows:
What we need from you (follow these steps):
If using Authorize.Net Advanced Integration Method (AIM), OR GoCashless:

Follow the instructions provided to you by your bank or Authorize.Net on how to Activate your account.
Once your account is activated, provide to us the following using our secure contact message at https://fairsoftware.com/contactus.aspx:

API Login ID
Transaction Key




If using PayPal Pro OR PayPal Payflow Gateway:

Note: Changes to PayPal's interface (out of our control) may reflect a slighty different represenation of screenshots.

Log on to: https://manager.paypal.com (contact PayPal at the above if you do not have or are unable to login)

Click Virtual Terminal
Click Single Transaction
Fill out the following and click 'Submit':

Tender Type: Credit Card
Transaction Type: Sale
Credit Card Number: (use a valid credit card - do not worry, you will only use a penny ($0.01) transaction)
Transaction Mode: Live

Fill out only the required fields: Expiration Date (of your credit card), and Amount (enter only 1 penny $0.01) then click 'Submit'
If your transaction was not successful then contact PayPal (at the above). If it was successfull, then provide to us the following using our secure contact message at https://fairsoftware.com/contactus.aspx:

Partner
Merchant Login
User
Password



Once you have completed the above, you will be able to process credit cards through ShoWorks within the same business day.
Question not answered in this article?
Click to
Contact GladStone support
for more information.